For the First Time Ever, U.S. States Enacted More Than 100 Abortion Restrictions in a Single Year
States have enacted 106 abortion restrictions so far in 2021, a year that has been marked by unprecedented threats to U.S. abortion rights and access. Not only is 106 the highest number of restrictions passed since Roe v. Wade was decided in 1973, but also this year is the first time that Guttmacher's count of enacted restrictions has hit triple digits. Earlier this year, the number of restrictions had already surpassed the previous record of 89 restrictions set in 2011.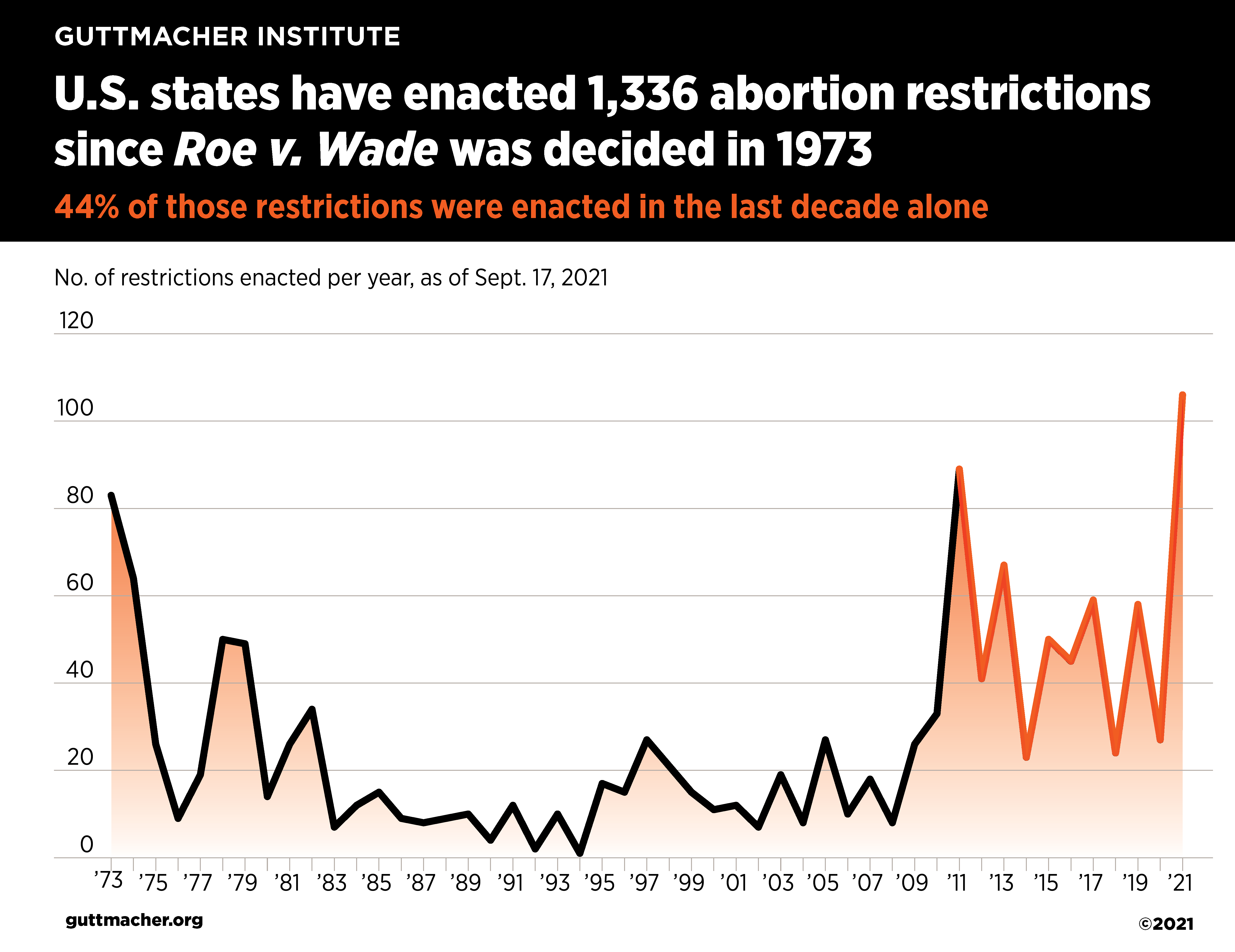 In total, 19 states have enacted 106 restrictions, including 12 abortion bans. While Texas is dominating national news this year, there are five other states that passed higher numbers of anti-abortion provisions. The state with the most new restrictions is Arkansas (20), followed by Oklahoma (16), then Indiana, Montana and South Dakota (nine each). Arkansas's 20 restrictions enacted in 2021 ties with Louisiana's 1978 record for the most restrictions in a single year. Leading up to 2021, there have been restrictions passed for decades, with each one making it harder to access and provide abortion services, and also building momentum for even more burdensome restrictions and bans.
The torrent of new restrictions this year includes the Texas six-week abortion ban that took effect on September 1, making it the only ban on abortion before 20 weeks to go into effect since 1973. The law (S.B. 8) has already caused significant harm in Texas and has left abortion patients and providers confronting very limited access within Texas, as well as capacity, logistical and financial issues in connecting patients to timely and affordable care outside of the state. On September 17, Texas Gov. Greg Abbott (R) signed legislation restricting access to medication abortion, which is set to take effect on December 2, potentially limiting access to the method used for most abortions before six weeks.
In addition, the U.S. Supreme Court will hear oral arguments on December 1 on Mississippi's blatantly unconstitutional 15-week abortion ban, a case that the Court's conservative anti-abortion majority could use to weaken or outright overturn Roe.
Abortion restrictions and bans are a direct violation of basic human rights and reproductive freedom. None of the 106 abortion restrictions enacted in 2021 are medically necessary. Their only purpose is to impose a socially conservative worldview and exert control over how people make decisions about their pregnancies.
Abortion restrictions have serious physical and mental health consequences, in addition to negative financial and societal impacts. Furthermore, abortion restrictions exacerbate logistical and financial obstacles for people who are already struggling to get by or who have reduced access to timely, affordable, high-quality health care—such as people with low incomes, people of color, young people, LGBTQ individuals and people in many rural communities.