LGBTQ+ Patients Face Overlapping Barriers to Care
,
and
At a time when conservative state policymakers are launching coordinated attacks on reproductive and LGBTQ+ rights, data on the intersecting identities targeted by these types of legislation are especially important. Prior research has found that there is diversity in sexual orientation and gender identity among people who have abortions in the United States. New research from the Guttmacher Institute's Abortion Patient Survey adds to this body of work, indicating that LGBTQ+ people, including individuals who do not identify as women, make up as many as 16% of US abortion patients. Ensuring that abortion research captures the needs and perspectives of the broad range of people with the capacity to become pregnant is critical for creating inclusive policies, fighting harmful legislation and providing patient-centered care. 
Diversity in Sexual Orientation and Gender Identity Among Abortion Patients   
Guttmacher's most recent Abortion Patient Survey provides data on a national sample of 6,674 individuals who obtained an abortion at 56 health care facilities across the United States in 2021–2022 (see Methodology below for more details). Some 1.1% of respondents reported their gender identity as something other than woman or female: 0.7% identified as gender nonbinary, 0.3% as transgender male and 0.1% as something else. Sixteen percent of respondents reported their sexuality as nonheterosexual: 12% said they were bisexual, 2% pansexual, 0.3% lesbian and 2% something else. Most respondents who identified as something other than cisgender also reported that they were not heterosexual. Applying the overall proportion of respondents who identified as LGBTQ+ to the number of total abortions nationally in 2020 indicates that as many as 149,000 individuals who obtained abortion care that year identified as something other than cisgender and/or heterosexual.  
The share of survey respondents reporting sexual orientations other than heterosexual varied widely by age-group, less so by racial or ethnic identity, and least of all by geography. 
The proportion of surveyed abortion patients who reported their sexual orientation as something other than heterosexual was highest among the youngest respondents (27%) and lowest among the oldest (10%).  

Twenty percent of White respondents, 16% of Asian respondents, 15% of Hispanic respondents and 12% of Black respondents identified as something other than heterosexual. 

By major US region, 14% of respondents identified as something other than heterosexual in the South, along with 16% in the Northeast, 17% in the West and 19% in the Midwest.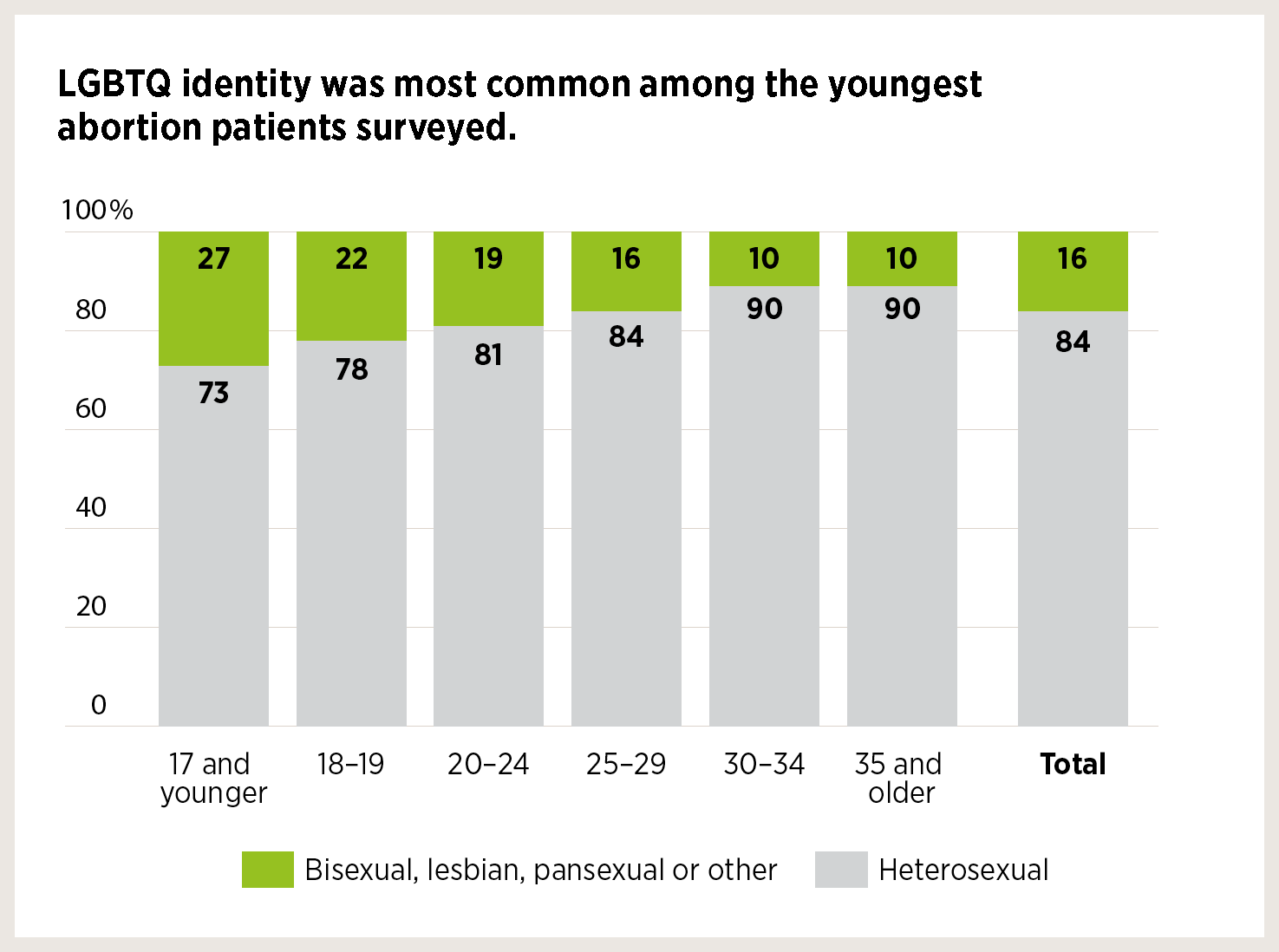 LGBTQ+ Individuals Face Unique Barriers to Care 
The US health care system fails to deliver adequate care for LGBTQ+ people, which leads to disparities in sexual and reproductive health outcomes. Specific challenges faced disproportionately by LGBTQ+ individuals include inadequate sex education, lack of health insurance, and discrimination by providers and health care systems. Abortion Patient Survey results suggest that a substantial number of LGBTQ+ individuals are obtaining abortion care. However, lack of inclusive, targeted care may discourage some LGBTQ+ people from seeking sexual and reproductive health services—including abortion services—altogether. 
Across the country, state legislators have introduced a slew of bills that seek to undermine the health and rights of LGBTQ+ people, particularly anti-trans legislation focused on restricting gender-affirming care for young people. These bills have accelerated dramatically in the wake of the Dobbs v. Jackson Women's Health Organization decision, the 2022 US Supreme Court case that eliminated the federal right to abortion and led to a proliferation of state abortion bans and restrictions. In the 2023 legislative session so far, 17 states have restricted or banned gender-affirming care for young people. Fourteen of these states also have abortion bans in effect that would have been blatantly unconstitutional before Dobbs. LGBTQ+ individuals are forced to navigate an often-hostile health care system, and when abortion restrictions are layered on top of existing barriers, access to care is placed even further out of reach. 
Conclusion 
LGBTQ+ people across the United States want, need and have abortions. Even before the Dobbs decision overturned Roe v. Wade, abortion was out of reach for many, especially for people who are part of one or more marginalized groups—LGBTQ+ people, but also young people, Black and Brown people, and those living with low incomes, to name a few. While some states have enacted legislation protective of health care for LGBTQ+ individuals, restrictions in any state have the potential to harm LGBTQ+ people across the country.  
Collecting and disseminating accurate data on the sexual orientation and gender identity of abortion seekers can help illuminate the experiences of LGBTQ+ individuals seeking essential health care. This information is critical for creating reproductive health policies that center the needs and rights of LGBTQ+ individuals, as well as for helping providers offer inclusive, patient-centered care. Sexual and reproductive health services that support the reproductive health needs of LGBTQ+ individuals are necessary to achieve bodily autonomy for all. 
Methodology 
The 2021–2022 Abortion Patient Survey was conducted from June 2021 through July 2022. The facilities were randomly selected from the Guttmacher Institute's national database of abortion providers; staff at participating facilities provided a flyer to, or collected contact information from, individuals accessing care. Interested respondents filled out an online survey and received a $20 gift card upon completion. The analyses on sexual orientation excluded 288 individuals (4%) who did not provide a response, and analyses on gender identity excluded 212 individuals (3%) who did not answer that item. Data for this analysis were not weighted.