2019 Impact Factor: 3.64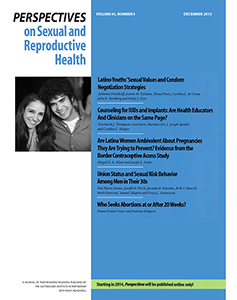 Perspectives on Sexual and Reproductive Health (1969–2020) offered peer-reviewed research and analysis on sexual and reproductive health and rights in the United States and other high-income countries. In 2019, the journal was ranked first among demography titles and third among family studies titles by Journal Citation Reports. The research published in Perspectives, complemented by commentaries, viewpoint articles and special reports, provides unique insights into how reproductive health issues are affected by policies and programs, and their implications for individuals and societies.
Archived journal content (ISSN: 1538-6341 for print; 1931-2393 for online) is available here, through the Wiley website, and on JSTOR.
For permissions requests and other inquiries, please contact Publications Assistant, Mary Del Plato, at [email protected].