A Matter of Facts — October 2022
ISSUE HIGHLIGHTS
Racial equity in research • Tracking state abortion laws in the US • Sex ed for queer kids • US becomes global outlier on abortion
 

From Our President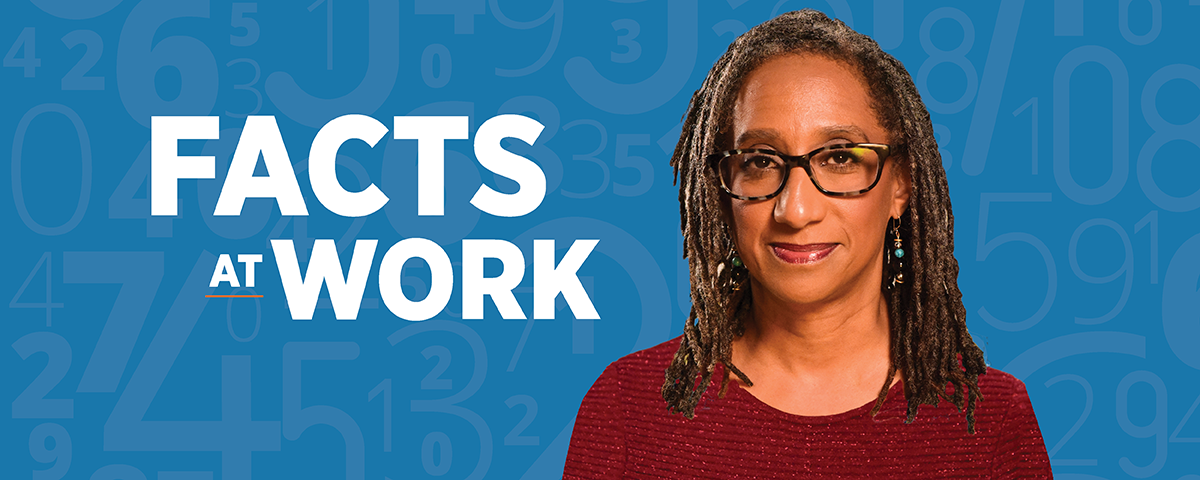 What does a genuine commitment to racial equity and justice look like for a research and policy organization? After many years reflecting on the vital role of equity in public health and the workplace, I'm certain that answering this question starts with having the humility to recognize one's contribution to injustice and the inequities it causes.
This realization is at the heart of the racial equity statement that Guttmacher's Board of Directors issued this summer. While equity has been an important guiding principle for the Board for some time, the killings of George Floyd, Breonna Taylor and Ahmaud Arbery and the racial justice uprising that followed compelled a thorough examination of the Institute's responsibility in the public reckoning. Emerging from a months-long process that involved consultation with a wide range of partners, the statement addresses the desire that many in the field expressed to better understand our commitment to equity.
That commitment starts with the acknowledgment that the research process is never free of bias. Historically—and still today—reproductive health research has been used to justify policies that exacerbated racial inequities, and the authority of supposed scientific objectivity has served to reinforce stigmatizing narratives about women of color. Guttmacher must recognize this history and our own part in it.
Our honest acknowledgment is a necessary first step toward change, toward making a sincere pledge to walk with our partners who are leading the effort for racial equity and justice. It sets us squarely on the path, as the Board's statement puts it, to "engage in the critical work to dismantle systemic and institutional barriers to justice, bodily autonomy and human rights."
We invite you to walk with us toward a more equitable approach to public health and to join us in the fight for reproductive justice.
Stay safe and strong,
Herminia Palacio, President and CEO
Number Crunch
An investment of $1 million in low- and middle-income countries of Southeast Asia would provide 88,804 women and couples with modern contraceptive care.
Estimate the health benefits of investing in contraceptive and other reproductive health services in different countries and regions with our new Family Planning Investment Impact Calculator.
Behind the Scenes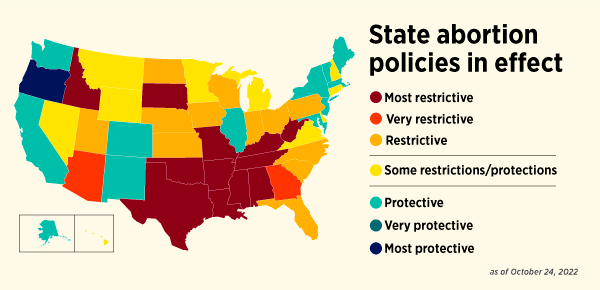 How we track state abortion laws in the US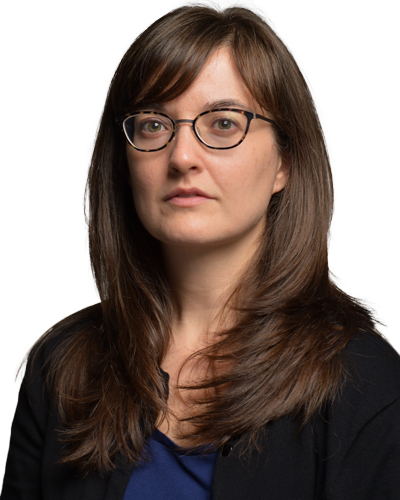 Guttmacher has been a go-to source for state-based sexual and reproductive health data since 1969. Elizabeth Nash, principal policy associate for state issues, is the linchpin of our current efforts to track what's happening on the state front.
Elizabeth monitors reproductive health legislation and policy, including abortion laws, in all 50 states and DC and serves as one of the Institute's main media commentators. She talked with editor Peter Ephross about how we keep tabs on the rapidly shifting legislative landscape—especially since the US Supreme Court overturned Roe v. Wade.
How has the fall of Roe made your work more important than ever?
It's really put a spotlight on state policies. People are looking at their state's policies on abortion, how things are changing, where bans are being enforced.
That's a way of saying you've been busy.
The Institute and our experts have been cited in so many outlets this year. I alone have done over 500 media interviews, and I've been cited about 175 times in articles.
Media outlets and advocates use Guttmacher's interactive map and its other resources to understand which abortion policies are in force on a state-by-state basis. How do you collect the data for these products?
To track legislation and regulation in the sexual and reproductive health issues we cover, we use paid services, state government websites and the news. Coalition partners also share information—we essentially crowdsource our information. We pull the data into a Microsoft Access database to help us organize it all. We also keep track of all the court cases using a variety of sources, including state court websites; the federal court records tracker, PACER; and news reports and information from movement organizations.
How often do you check those sources?
Constantly. It's almost become a 24-7 operation since the Dobbs decision.
What state-level legislative data do we collect, other than on abortion?
We track contraception, health insurance coverage of sexual and reproductive health, maternal health, LGBTQ+ health and transgender issues. We have 33 fact sheets on our website that show the legal status of key issues in each state. Those are some of our most clicked-on documents. And we do trends pieces and other analyses of what's happening in the states. We also provide data for our researchers' analyses, such as the recent 100 days since the Dobbs decision analysis.
Any examples of how these data helped legislators or activists?
In Wyoming, a state with only a few, but incredibly dedicated, reproductive health advocates, we have over the years provided data, evidence and analysis to fight restrictive bills in their state legislature, and for advocacy on a day-to-day basis. Florida, over a year ago, was facing a 20-week abortion ban, and we worked to help activists there by writing an op-ed about why a 20-week ban would be harmful. The ban didn't move in that legislative session.
Abortion is playing a huge role in the midterm elections. Are we tracking those as well?
What we're tracking are the state ballot initiatives. There are five this fall. Three states—California, Michigan and Vermont—are looking to protect abortion rights in their state constitutions. Then we have Kentucky, where there is a ballot initiative that, if approved by voters, will say that the state constitution does not protect abortion. In Montana, voters will cast their ballots on a law that requires providers to take certain actions in the rare event where an abortion results in an actual delivery. Providers who violate the law could be fined and imprisoned.
What activities and policies will you be watching for in the near future?
The chaos we've been seeing around increased abortion bans and restrictions over the past several months will continue for the next few years. We'll also continue to see progressive states look to protect abortion rights and access. That is key. We're anticipating that those who oppose abortion will take aim at contraception and LGBTQ+ rights. We have to be vigilant in protecting those rights as well.
---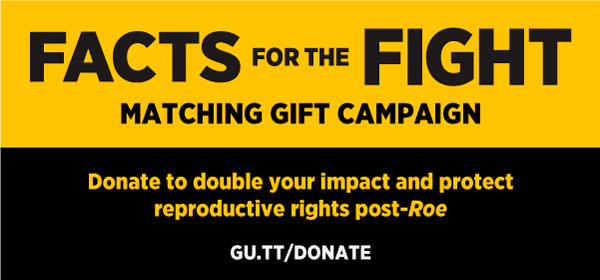 The overturning of Roe v. Wade has already had devastating effects. At the Guttmacher Institute, we're fighting back with facts.
We are raising $750,000 to produce the evidence needed to protect reproductive health and rights in your community and across the country. A group of like-minded supporters is ready to match every gift, dollar for dollar, up to this goal.
Donate now to double your gift. Your generosity will help us to continue providing facts for the fight, which are needed now more than ever.
---
Fast Facts
Reversing Roe made the US a global outlier
The United States is now an exception when it comes to abortion—and not for good reasons. Since January 2000, some 50 countries have expanded the grounds for legal abortion. When the US Supreme Court overturned Roe v. Wade, the United States joined Nicaragua and Poland as the only nations that have regressed on legal abortion in 22 years.
The United States is now an anomaly among high-income countries, where abortion is broadly, and almost universally, legal. As of August 2022, some 22 million US women of reproductive age lived under highly restrictive laws more typical of low- and middle-income countries. That number is only increasing, as more states enact restrictions or bans in the wake of the decision to overturn the constitutional right to abortion.
Unfortunately, the Supreme Court's ruling may reach far beyond US borders. International organizations and policymakers are concerned that the rollback of US abortion rights could strengthen efforts in other countries to derail abortion reform and endanger access to care.
Read our analysis about the potential perils faced by people worldwide after the fall of Roe.
---
We Recommend...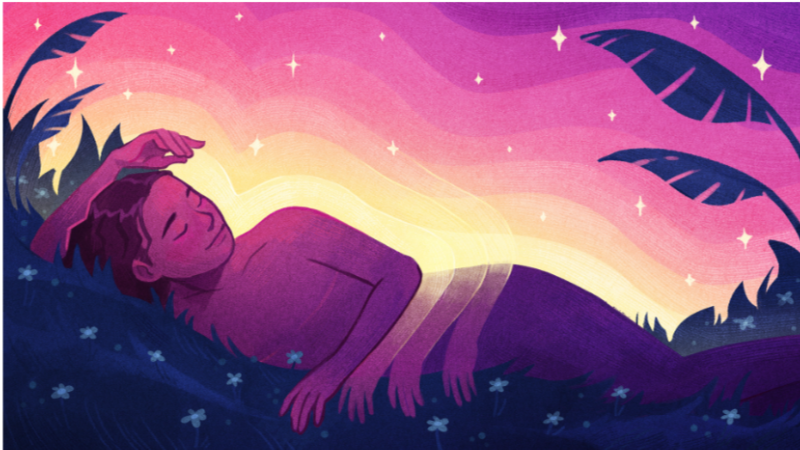 Kaz Fantone for NPR
---
Notions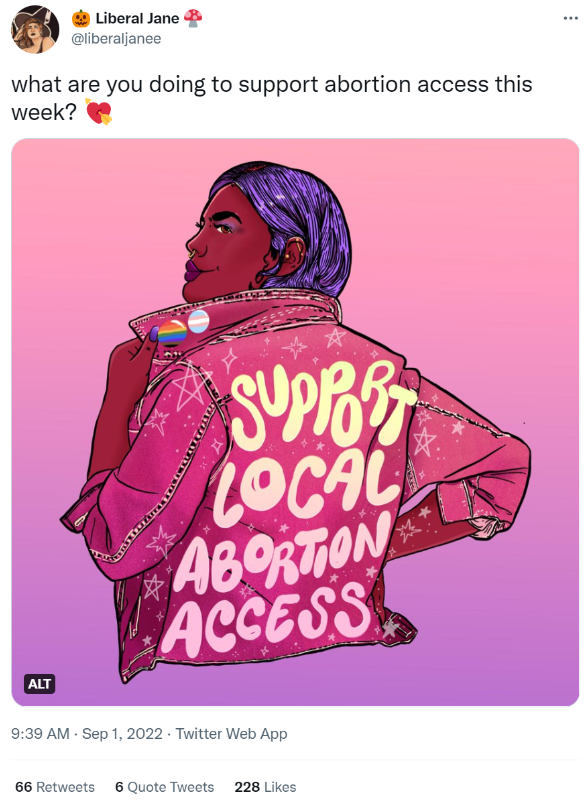 The reproductive justice artist Caitlin Blunnie (active on social media under the alias Liberal Jane) never ceases to inspire us with her uplifting, inclusive work, which champions the autonomy of the body, whatever its form. It also reminds us that everybody, everywhere, has a stake in ensuring access to abortion.
---
We hope you enjoyed this inside peek at the people, policy analysis and research that fuels the fight for reproductive rights—powered by you, our supporters. Guttmacher's A Matter of Facts newsletter was developed by Jenny Sherman, with editorial contributions from Peter Ephross and Lisa Melhado; designed by Michael Moran with support from Shawn Hileman; delivered with technical support from Melissa Martin; and produced with help from colleagues from across the organization.