Laws Affecting Reproductive Health and Rights: 2014 State Policy Review
During the 2014 state legislative session, lawmakers introduced 341 provisions aimed at restricting access to abortion. By the end of the year, 15 states had enacted 26 new abortion restrictions. Including these new provisions, states have adopted 231 new abortion restrictions since the 2010 midterm elections swept abortion opponents into power in state capitals across the country.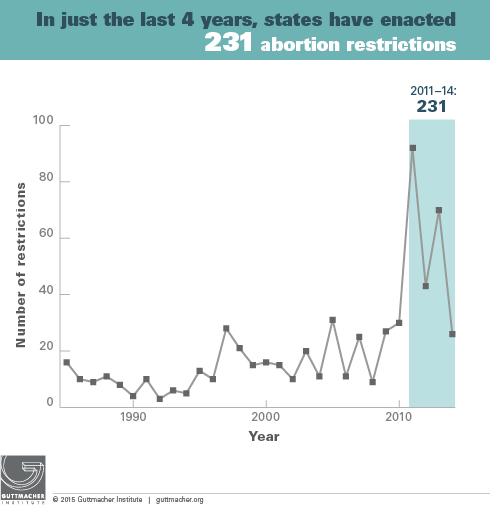 Bucking this tide, legislators in 17 states introduced 95 measures designed to expand access to abortion, more positive measures than in any year since 1990. Of these, four were signed into law: two provisions established buffer zones around abortion providers in Massachusetts and New Hampshire; the third repealed the pre-Roe abortion ban in Vermont; and the fourth eased counseling requirements for women seeking an abortion because of a fetal impairment in Utah. Moreover, on Election Day, voters in Colorado and North Dakota rejected ballot initiatives that would have conferred personhood on a fertilized egg by a two-to-one margin, even as voters in Tennessee approved an initiative expanding legislators' authority to restrict abortion. States also took positive steps on other sexual and reproductive health and rights issues, enacting provisions requiring insurance coverage of all FDA-approved contraceptive methods with no cost-sharing in California; protecting confidentiality for individuals insured as dependents in Maryland; and allowing STI treatment for a patient's partner in the District of Columbia.
The large number of recently enacted abortion restrictions has dramatically reshaped the landscape for women seeking an abortion (see A Surge of State Abortion Restrictions Puts Providers—and the Women They Serve—in the Crosshairs). In 2000, 13 states had four or five types of abortion restrictions in effect and so were considered hostile to abortion rights. In that year, no state had more than five types of abortion restrictions in effect. By 2010, 22 states were considered hostile to abortion rights; five of these had six or more restrictions, enough to be considered extremely hostile to abortion rights. By 2014, 27 states had enough restrictions to be considered hostile; 18 of these can now be considered extremely hostile. The entire South is now considered hostile to abortion rights, and much of the South, along with much of the Midwest, is extremely hostile to abortion rights.
The proportion of women living in hostile states has surged as well. In 2000, 31% of women of reproductive age lived in a state hostile to abortion rights, with no women living in a state with enough restrictions to be considered extremely hostile. By 2014, 57% of women lived in a state that is either hostile or extremely hostile to abortion rights.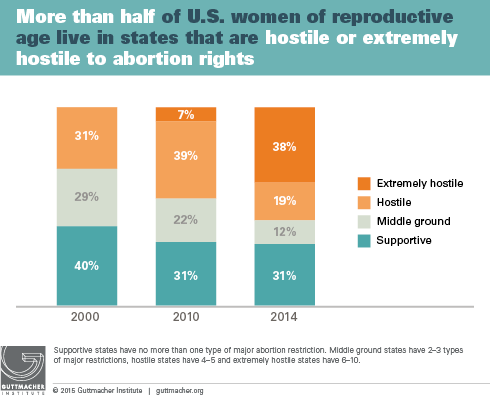 Abortion Issues
The 26 abortion restrictions enacted in 2014 represent a significant decrease from the 70 that were enacted in 2013. Several factors likely contributed to this decline. First, legislatures in four states (Montana, Nevada, North Dakota and Texas) are not in session in even-numbered years, which are also election years; together, these four states enacted 15 restrictions in 2013. Second, election-year legislative sessions are typically several weeks shorter than sessions in non-election years. Finally, abortion increasingly competes for legislative time with other issues, including the minimum wage and the common core educational standards.
Nonetheless, the midterm election results provide good reason to be concerned about a renewed focus on restricting abortion in the upcoming 2015 legislative sessions. Republican legislators, who overwhelmingly oppose abortion rights, solidified their dominance in the states. Republicans will now control both legislative chambers in 30 states, three more than in 2014; in 23 of those states, the governor will also be Republican. Democrats will control both legislative chambers and the governor's mansion in only seven states. In addition, the ballot initiative approved in Tennessee likely will open the door to additional restrictions in that state.
Major action in 2014 includes:
Abortion bans
Buffer zones around abortion providers
Counseling and waiting periods
Medication abortion
Targeted regulation of abortion providers (TRAP)
Minors' access to abortion services
Insurance coverage of abortion
Family Planning and Access to Related Services
No state adopted new restrictions on publicly funded family planning providers in 2014. Nine states currently prohibit certain types of providers from receiving state funds (AZ, CO, IN, KS, NC, OH, OK, TX and WI), and three states have a priority system in place to guide the distribution of funds (MI, OH and TX) (see State Family Planning Funding Restrictions). In addition, no state instituted new disproportionate cuts to family planning funding.
Significantly, all major action on family planning and related services in 2014 involved attempts to expand access to needed care and services:
Sex Education
Inclusion of information about either contraception or abstinence was not a major issue in state legislatures in 2014. Instead, nine states (CA, CT, LA, MA, NM, PA, RI, SC and UT) enacted measures related to education on sexual assault awareness and prevention. Including these new provisions, 20 states and the District of Columbia require that sex education include information about skills for avoiding coerced sex (see Sex and HIV Education).