U.S. Teen Pregnancy, Birth and Abortion Rates Reach Historic Lows
Teen Pregnancy Rates Declined in Every State and Among All Racial and Ethnic Groups
This publication has been updated. Please see here for the latest version.
Rates of teen pregnancy, birth and abortion have declined dramatically in the United States since their peak in the early 1990s. In 2010, some 614,000 pregnancies occurred among teenage women aged 15–19, for a rate of 57.4 pregnancies per 1,000 women that age. This marks a 51% decline from the 1990 peak, and a 15% decline in just two years, from 67.8 in 2008, according to "U.S. Teenage Pregnancies, Births and Abortions, 2010: National and State Trends by Age, Race and Ethnicity," a new study by the Guttmacher Institute. Similarly, the teen birthrate declined 44% from the peak in 1991 (from 61.8 births per 1,000 to 34.4 per 1,000); and the teen abortion rate declined 66% between its 1988 peak and 2010 (from 43.5 abortions per 1,000 to 14.7 per 1,000).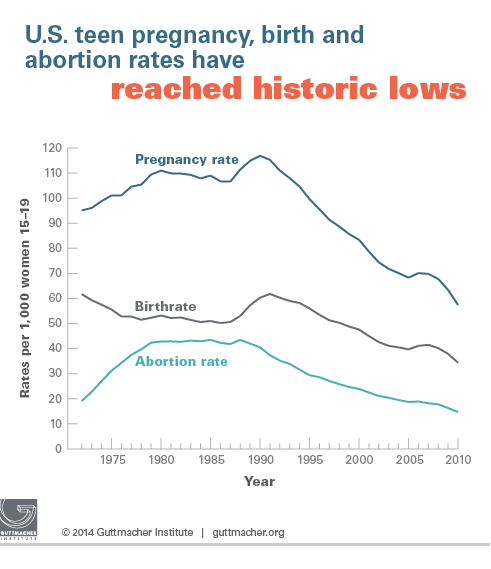 While there was a substantial drop in the pregnancy rate for 15–17-year-olds and 18–19-year-olds between 2008 and 2010, pregnancies among 18–19-year-olds constituted the majority (69%) of teen pregnancies. During this same time period, increasing proportions of 18–19-year-olds reported having ever had sex, yet fewer of them became pregnant. The likely reason is improved contraceptive use and use of more effective methods.
"The decline in the teen pregnancy rate is great news," says lead author Kathryn Kost. "Other reports had already demonstrated sustained declines in births among teens in the past few years; but now we know that this is due to the fact that fewer teens are becoming pregnant in the first place. It appears that efforts to ensure teens can access the information and contraceptive services they need to prevent unwanted pregnancies are paying off."
The study also found dramatic declines in teen pregnancy rates among all racial and ethnic groups. The teen pregnancy rate declined 56% among both non-Hispanic white teens (from 86.6 per 1,000 to 37.8) and among black teens (from 223.8 per 1,000 to 99.5) between 1990 and 2010, and by 51% among Hispanic teens (from 169.7 per 1,000 to 83.5) between 1992 (the peak for this group) and 2010. However, wide disparities persist, and rates among both black and Hispanic teens remain twice as high as the rate for non-Hispanic white teens.
Teen pregnancy rates declined in all 50 states between 2008 and 2010. Yet even with ongoing declines, substantial disparities remain between states. In 2010, New Mexico had the highest teenage pregnancy rate (80 per 1,000), followed by Mississippi (76), Texas (73), Arkansas (73), Louisiana (69) and Oklahoma (69). The lowest rates were in New Hampshire (28 per 1,000), Vermont (32), Minnesota (36), Massachusetts (37) and Maine (37). The authors suggest that the demographic characteristics of states' populations, the availability of comprehensive sex education, knowledge about and availability of contraceptive services and cultural attitudes toward sexual behavior and early childbearing likely play a role in these variations.
Click here for the full report: "U.S. Teenage Pregnancies, Births and Abortions, 2010: National and State Trends by Age, Race and Ethnicity," by Kathryn Kost and Stanley Henshaw.
For more information:

Facts on American Teens' Sexual and Reproductive Health

Guttmacher State Data Center: create your own customized tables, graphs and maps