In the US Midterm Elections, Resounding Victories for Abortion on State Ballot Measures
With Roe v. Wade's federal constitutional protection for abortion overturned by the US Supreme Court in June, the stakes for abortion access were high in yesterday's US midterm elections.  
Voters in a record five states—California, Michigan, Vermont, Kentucky and Montana—decided on abortion-related ballot measures and came down decisively in favor of abortion rights and access.  
Here's what this means: 
California  

Proposition 1 passed, meaning that the right to abortion and contraception is enshrined in the state constitution.  
California has now further cemented its status as a leader in protective abortion policies. With this important victory, California is now categorized as "Very Protective" on Guttmacher's interactive map tracking state abortion policies.   

Michigan 

Proposition 3 passed, meaning that essential protections for abortion and pregnancy care—including birth control, prenatal care and childbirth—are enshrined in the state's constitution.  
Adding this amendment to the Michigan constitution will help permanently block the 1931 pre-Roe abortion ban from going into effect (it is currently blocked temporarily).   

Vermont  

Proposition 5 passed, meaning that personal reproductive autonomy—which includes decision-making on pregnancy, abortion, contraception and sterilization —is enshrined in the state's constitution.  
Vermont is the first state to explicitly protect personal reproductive autonomy in its constitution. With this important victory, Vermont is now categorized as "Very Protective" on Guttmacher's interactive map.   

Kentucky  

Voters rejected Constitutional Amendment 2, which would have explicitly stated that the state constitution provides no protection for abortion rights.  
While abortion is still banned in the state except in very narrow circumstances, defeating this measure is a significant win and could set the stage for future progress on abortion rights.    

Montana 

Proposed law LR-131 is poised to be rejected by Montana voters. The measure tried to elevate a false anti-abortion narrative and would have mandated that providers sustain infants born at any stage, even those that are nonviable, or face severe penalties.  
While anti-abortion policymakers claimed the measure was aimed at restricting abortion access, providers say its passage would have most severely impacted people with pregnancy complications and pregnancies involving fetal anomalies.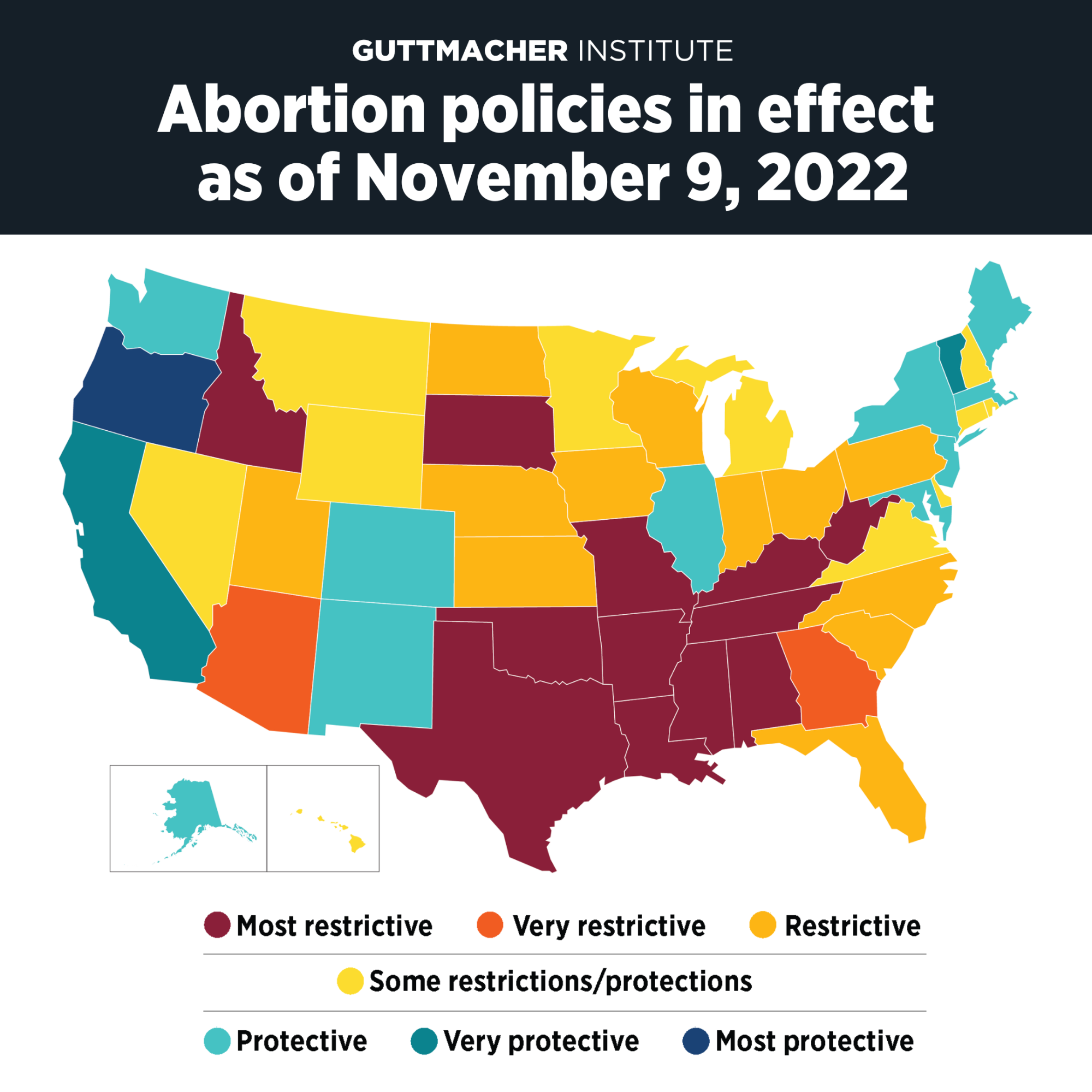 Despite these critically important wins, abortion is unavailable in 14 states right now, including 12 states with abortion bans that have virtually no exceptions and two states where there are no clinics providing care. That means 19 million women of reproductive age in the United States cannot access abortion in their state of residence, along with transgender and nonbinary people who may need an abortion. Every single one of those people is being denied an integral part of their health care and their right to bodily autonomy. 
And more bans are coming. The legislature in South Carolina is taking up a near-total ban on abortion and the legislature in Ohio is planning on convening to debate an abortion ban before the end of the year. 
Going into 2023, we expect more states to attempt to restrict abortion care, as well as escalate attacks on contraception and gender-affirming care. 
These midterms are only the beginning of a long struggle to build back a future that goes beyond Roe v. Wade, where the United States can guarantee accessible, affordable and compassionate abortion care for every person in this country.