State Policy Trends 2022: In a Devastating Year, US Supreme Court's Decision to Overturn Roe Leads to Bans, Confusion and Chaos
The US Supreme Court's decision in June 2022 to overturn Roe v. Wade has had disastrous effects on abortion rights across the country. Abortion is currently unavailable in 14 states, and courts have temporarily blocked enforcement of bans in eight others as of December 12, 2022. Even in states where abortion is available, the influx of patients from states with severe restrictions has created lengthy waiting times for the procedure.
Many state prohibitions were pre-Roe laws or trigger bans that went into effect immediately or shortly after the Court's decision in Dobbs v. Jackson Women's Health Organization. These near-total or early-gestational-age abortion bans particularly harm patients who already have difficulty accessing an abortion, including people with few financial resources, people of color, LGBTQ individuals and young people. States that limit access to abortion are more likely than states with broader access to have weak social safety nets that are unable to meet their residents' basic health and child care needs, along with high rates of maternal morbidity and mortality.
Abortion providers and advocacy organizations have challenged many of the state bans. Because the US Constitution no longer protects abortion rights, these cases are being heard in state courts rather than federal courts. Some of these bans have become entangled in a legal back and forth—with abortion being legal one day and illegal the next—and this chaos has had a yo-yo effect that has confused both providers and patients.
Legislatures and governors in other states reacted to the Dobbs decision by implementing proactive abortion laws, policies and programs. Eighteen states adopted a total of 77 proactive provisions as of December 12 through the legislative process or executive orders that focused on abortion funding, clinic access and safety, and "shield laws" to protect providers from out-of-state lawsuits for providing abortions. And in an August primary vote and the November midterm elections, voters in six states confirmed via ballot initiatives that they support abortion rights.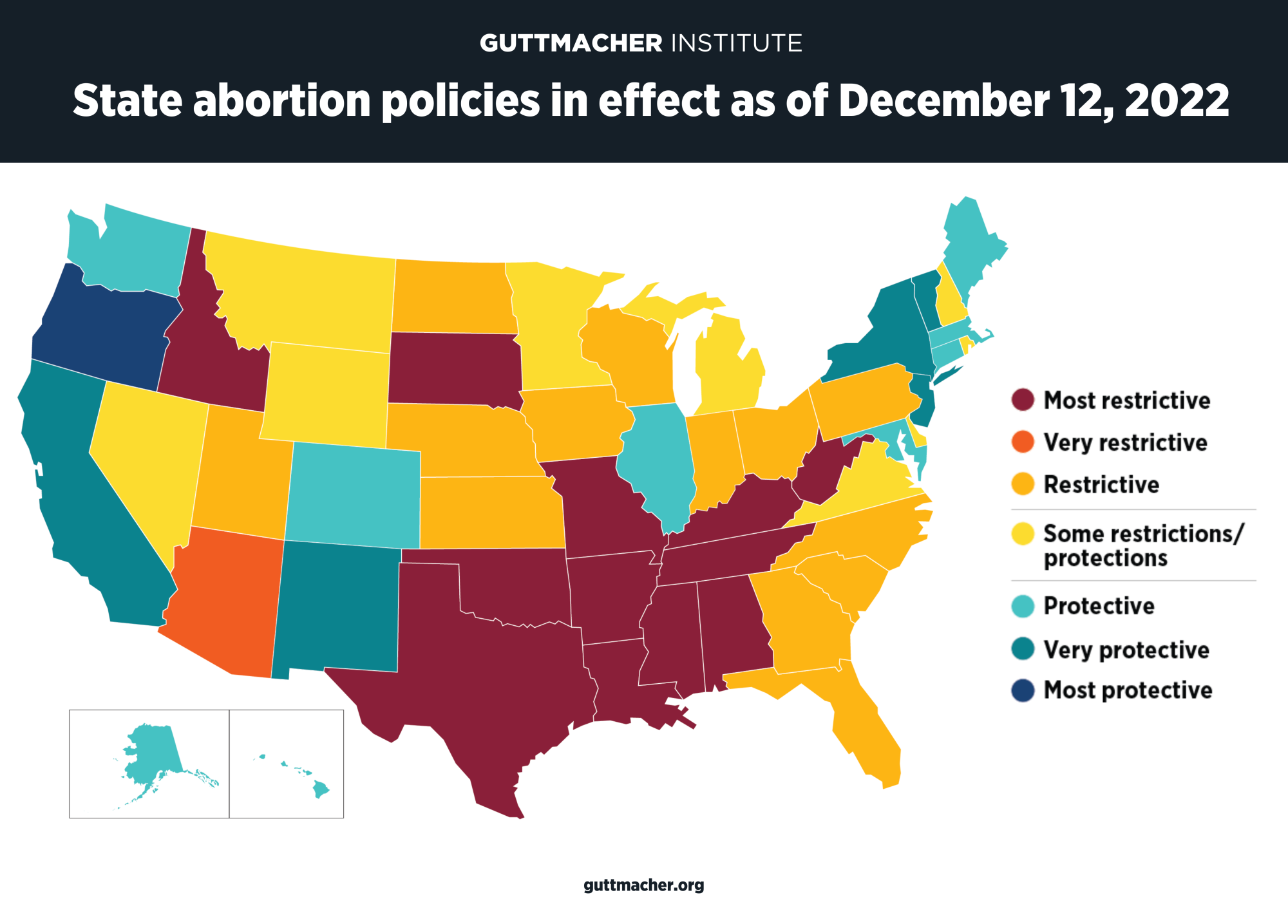 View interactive version of the map.
Abortion Bans and Restrictions
There were 50 abortion restrictions adopted by states in 2022. This was not a large number compared with 2021, when a record total of 108 restrictions were enacted. However, many of the laws passed this year are near-total abortion bans; combined with the implementation of pre-Roe laws and trigger bans that had been enacted in previous years, these laws have restricted abortion access for millions of people.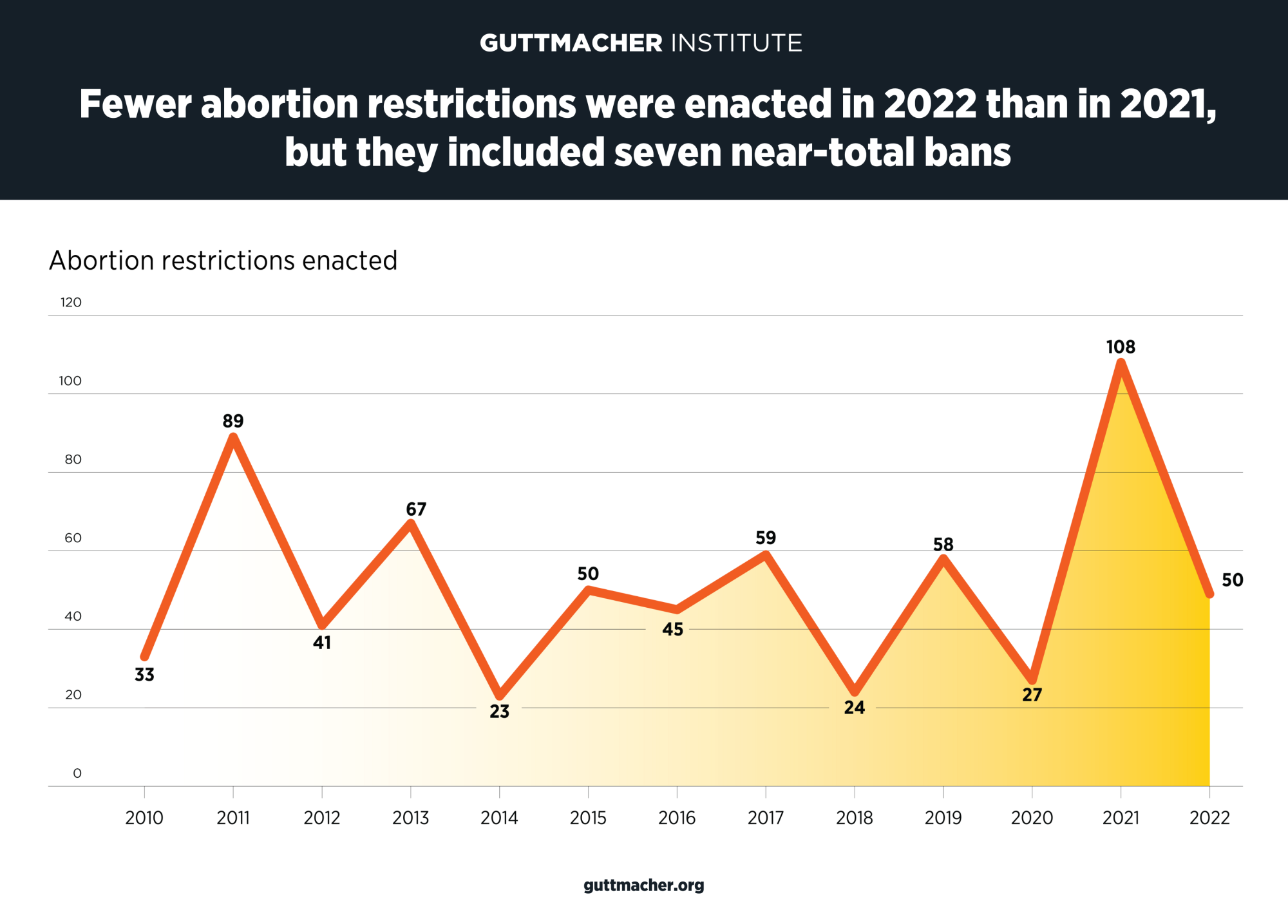 Near-total bans
Sixteen states have had a near-total abortion ban in effect at some point this year, and bans were in effect in 12 states as of December 12: Alabama, Arkansas, Idaho, Kentucky, Louisiana, Mississippi, Missouri, Oklahoma, South Dakota, Tennessee, Texas and West Virginia. In all of these states except West Virginia, the bans were on the books and ready to implement before the Supreme Court's Dobbs decision. Near-total bans in the remaining four states—Arizona, Indiana, Utah and Wyoming—have been temporarily blocked during litigation.
A few examples demonstrate the chaos that on-again, off-again implementation of some bans has created:
In Arizona, clinics stopped offering abortions after the Dobbs decision because the legality of providing the procedure was unclear. A state court then blocked enforcement of a fetal personhood law, paving the way for some clinics in the state to resume their services. At the end of September, another state court allowed a previously enacted pre-Roe ban to go into effect, which forced clinics to stop providing abortions. By early October, enforcement of the pre-Roe ban was blocked and a ban at 15 weeks of pregnancy had been implemented, allowing clinics to reinstitute some abortion care.

In Oklahoma, four different abortion bans have gone into effect since early May. Currently the state bans all abortions, except when necessary to save the patient's life.

In states including Idaho and Tennessee, providers and patients were confused about when an abortion ban triggered by the end of Roe would be valid. These bans ultimately went into effect in late August.
In addition to the 12 states with new bans in effect as of December 12, abortion care has become unavailable in two more states for other reasons. Although North Dakota's trigger ban is not in effect as a result of ongoing litigation, the sole abortion clinic that was open in the state has moved to Minnesota. Clinics in Wisconsin have stopped providing abortions because of a lack of clarity over whether the state's pre-Roe ban went into effect after the Supreme Court's Dobbs decision. A state court case is pending on the issue.
Virtually all of the 17.8 million women of reproductive age (15–49) who live in these 14 states, along with transgender and gender-nonconforming individuals who also may become pregnant, no longer have access to abortion unless they travel to another state or self-manage their abortion. Moreover, across these states, 66 clinics had stopped providing abortion care 100 days after Dobbs, and nearly one-third had closed entirely.
All of the state bans allow for abortions under very limited circumstances, but these exceptions are designed to be unworkable in virtually every situation.
All 12 of the bans in effect have exceptions in cases where the pregnant person's life is endangered. Three of these states allow abortions solely for this reason. The vague wording of these exceptions places a physician or other provider at substantial legal risk—including large fines, imprisonment or loss of a medical license—if they provide an abortion that is not deemed to meet the narrow allowable circumstances. As a result, patients suffer because providers will often delay an abortion until the patient has a dire medical emergency.

Seven of these bans also have an exception for a patient's severe physical health conditions. If a patient suffers from these types of conditions but is not in an emergency situation, care could be denied or delayed until the condition worsens.

Three states' bans have exceptions for rape; two of these also have exceptions for incest. Most of these exceptions require the crime to be reported to legal authorities, even though the majority of rape and incest cases go unreported and reporting can be traumatizing for survivors. Conversely, laws that do not require a police report may place providers in the position of having to prove the assault meets the requirements of the exception.

Three states' bans have exceptions for lethal fetal anomalies.
Gestational age bans
Since the Dobbs decision, several states have enacted new bans on abortion at certain points of pregnancy. Three states (Georgia, Ohio and South Carolina) implemented bans starting at six weeks of pregnancy, two (Arizona and Florida) implemented 15-week bans, Utah enforced an 18-week ban and North Carolina imposed a 20-week ban. The prohibitions in Arizona, Florida, Georgia, North Carolina and Utah were in effect as of December 12.
In states with gestational age bans, as well as in the 14 states where abortion is virtually unavailable at any stage of pregnancy, obtaining an abortion may mean traveling to another state for care. Even before Roe fell, nearly 10% of people seeking abortion care traveled out of state. Moreover, many of the states that banned abortion after the Dobbs decision are clustered together; as a result, many patients have to travel across more than one state to access care.
These travel burdens add hundreds of dollars to the cost of an abortion and take an emotional toll as people have to find a way to take time off work and, in many cases, arrange for child care. For many people, including individuals with fewer financial resources, patients of color, young patients and LGBTQ individuals, these logistic and financial barriers can be impossible to overcome. In the first two months after the Dobbs decision, a study found that there were 10,600 fewer abortions nationwide compared with the number in April.
Court Cases
In 19 states, challenges are pending against near-total and gestational age bans as of December 12; in nine of those cases, the ban remains in effect while legal proceedings continue. In the past, these lawsuits were most often filed in federal court because of the US Constitution's protections for abortion rights. Now that the federal right to abortion has been overturned, nearly all of the cases are being heard in state courts, as state constitutions become the new battleground.
In Montana, where the gestational limit for abortion is fetal viability, the governor has asked the state's supreme court to roll back protections for abortion rights that the court previously held were in the state's constitution. The Iowa governor has asked a state court to allow a six-week abortion ban to go into effect, which would sharply reduce the current gestational limit of 22 weeks of pregnancy. Challenges in several other states, including Utah and Wyoming, have led to temporary blocks on enforcing near-total abortion bans.
In Idaho and Texas, there are cases proceeding in federal court that focus on exceptions to near-total abortion bans, rather than the bans themselves. In both lawsuits, the federal government has asserted that a federal law requiring treatment for patients having a medical emergency takes primacy over the very narrow exceptions provided in these bans. The federal court in Idaho has required the state to follow the federal emergency treatment law, while in Texas, the court has held the state's exceptions are sufficient. Both cases are ongoing as appeals continue.
Proactive Abortion Policies
Even as many states were passing restrictive abortion legislation, other states reacted to the Dobbs decision by passing protective measures, which fell into three main categories: funding for abortion, safe access to clinics and increased confidentiality for providers, and "shield laws" that protect both providers and patients from criminal investigations for being involved in an abortion. These efforts have resulted in the highest number of abortion protections ever enacted in one year; one-quarter of these were enacted in California.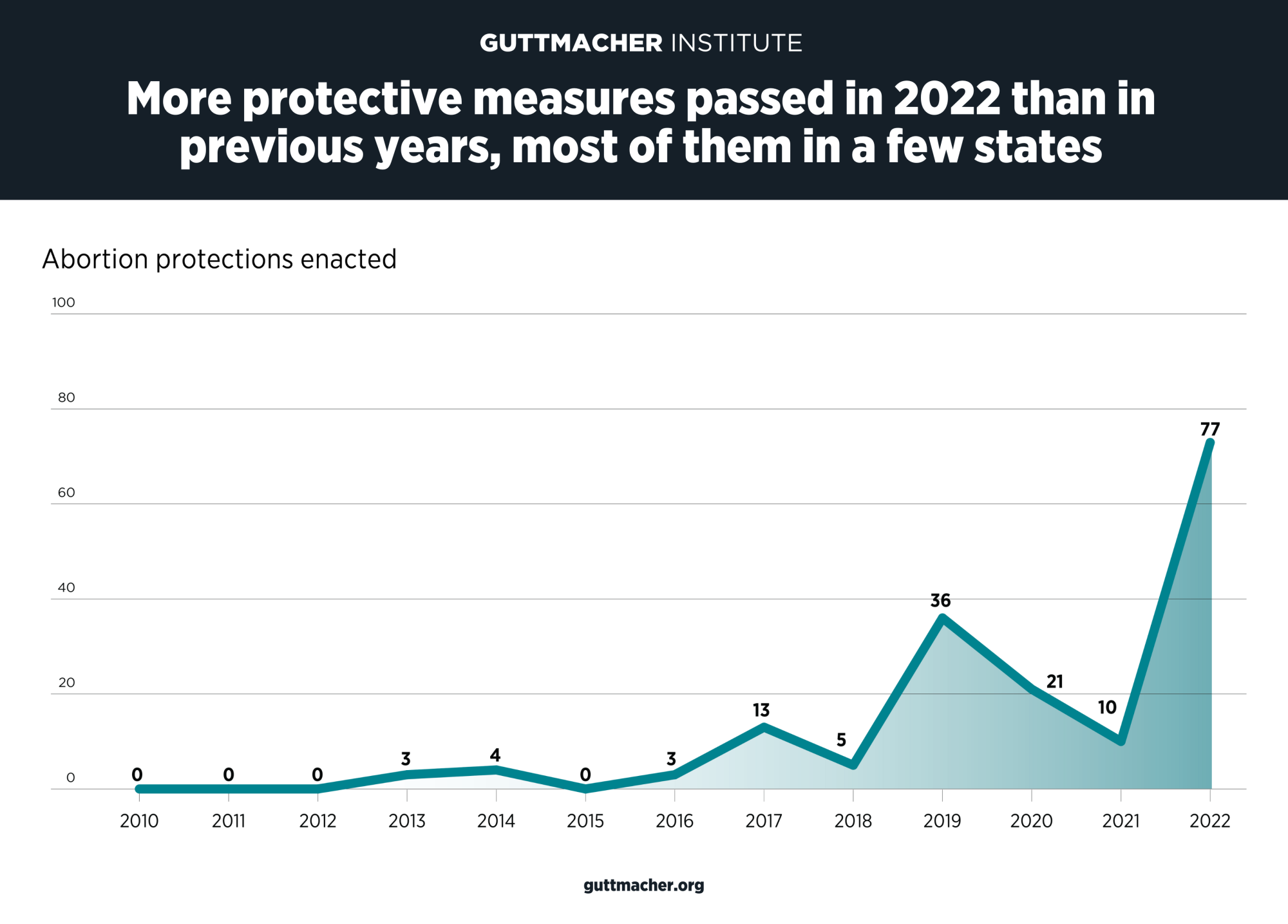 Seven states passed legislation or issued an executive order committing money to abortion funding. In most of these states, the funds represent a one-time allocation.
California's new law commits $200 million for reproductive health care. At least $110 million will go to fund abortion services and infrastructure.

Illinois increased its reimbursement rate for Medicaid-funded abortions.

Massachusetts committed $2 million to abortion funds and supporting organizations.

New Jersey has committed several million dollars to expand access to abortion, including provider training.

New Mexico's governor issued an executive order that commits $10 million for a new abortion clinic near its border with Texas.

New York will spend $25 million for abortion services.

Oregon's legislation will fund $15 million for abortion services and infrastructure.
In four states, laws were enacted to improve abortion clinic access and safety for providers and patients:
Maine established an eight-foot buffer zone around health facility entrances to guarantee safe access for patients, providers and staff.

Massachusetts protected providers who offer reproductive health and gender-affirming care by allowing them to join the state's Address Confidentiality Program.

New Jersey's budget included $5 million for a reproductive health care security program.

New York extended its Address Confidentiality Program to include reproductive health care providers and their families, as well as volunteers and patients.
Fourteen states have adopted protections—some by legislation and others via executive order—to shield abortion providers and patients from investigation by officials in states that ban abortion. These "shield laws" are designed mainly to prevent providers from being extradited to a state that bans abortion to be investigated for providing the procedure to that state's residents. All of these measures apply to other aspects of reproductive health care as well, including these additional protections:
California's law prevents public and private entities, such as law enforcement agencies or corporations, from intercepting wire or electronic communications in order to obtain evidence of an abortion.

California's and Colorado's medical boards will be prohibited from bringing disciplinary action against a medical professional for providing reproductive health care.

Massachusetts' law specifically applies to gender-affirming care.
Ballot Initiatives
Voters in six states showed their support for abortion rights and access on ballot initiatives in 2022. Most of these initiatives were state constitutional amendments:
California, Michigan and Vermont became the first states in the country to explicitly add protections for reproductive health and rights, including abortion, to their constitutions.

Kansas voters this summer rejected language that would have explicitly excluded abortion rights from the state constitution, becoming the first state to do so. Over the past nine years, voters in Alabama, Louisiana, Tennessee and West Virginia had approved changes to their constitutions to exclude protections for abortion.

Kentucky voters rejected a similar amendment in November to the one rejected in Kansas.

In Montana, voters rejected a state measure that would have required providers to preserve the life of a fetus delivered alive after an abortion. The state already has a similar requirement in effect that applies to a viable premature infant.
Maternal Health and Pregnancy
Even though abortion dominated the national landscape in 2022, 25 states and the District of Columbia passed other types of legislation to support maternal health and pregnant people. Three states passed laws on doula services:
Delaware and Maryland passed legislation to improve coverage of doula services.

Washington state passed a law to establish state doula regulations.
Federal legislation passed in 2021 allowed states to extend Medicaid coverage to one year after the end of pregnancy. In 2022, such coverage was upgraded in four states:
Delaware, Indiana, Maine and New Jersey adopted legislation directing the extension of coverage in their Medicaid program, making a total of 32 states and DC that have done so.
In addition, two states passed legislation that expands parental leave:
In Illinois, public and private sector employees will be entitled to two weeks of unpaid bereavement leave after a miscarriage or an unsuccessful round of in vitro fertilization.

In Utah, state and local government employees affected by miscarriage or stillbirth will be eligible to receive at least three days of bereavement leave, and state employees can now receive expanded paid parental leave.
Looking Ahead to 2023
As state legislatures, courts and voters continue to weigh in on abortion bans enacted in the wake of the Dobbs decision, the chaos created by overturning Roe is likely to continue. Progressive state legislatures are expected to support increased access to abortion care in their own states and attempt to mitigate the impact of barriers for those living in states that ban abortion, while conservative states are expected to pass more outright bans and other abortion restrictions. Moreover, more states will likely send questions on abortion and reproductive rights directly to voters.
At the same time, court cases stemming from abortion bans and restrictions will continue to wind their way through the legal system. Patients and providers in states that have banned abortion or are likely to do so will be in uncertain territory. This precarious situation will place the heaviest burden on those who were already most harmed by previous limits on abortion: individuals with few financial resources, people of color, LGBTQ individuals and young people.
Counts of state legislation in 2022 (as of December 12, 2022):
Reproductive Health and Rights Overall
2,408 provisions introduced in state legislatures on all reproductive health and rights topics

1,451 provisions introduced that would protect reproductive rights or expand access to reproductive health

839 provisions introduced that would restrict access to reproductive health or curtail rights
Abortion
369 provisions introduced that would protect or expand access to abortion care

563 provisions introduced that would restrict access to abortion care

641 provisions restricting access to abortion care have been enacted since the beginning of 2011
Contraception
249 provisions introduced that would protect or expand access to contraceptive services
Maternal Health
471 provisions introduced that would expand access to or improve the quality of maternal health care
Information on legislation and enactments on specific topics can be found in our State Policy Update, which is updated twice a month.