State Policy Trends at Midyear 2022: With Roe About to Be Overturned, Some States Double Down on Abortion Restrictions
Even before a leaked US Supreme Court draft opinion made it clear that a majority of the justices are poised to overturn Roe v. Wade, abortion-related measures had already soared to the top of state legislative agendas across the country in the first six months of 2022. Many of these laws sharply curtail abortion rights and access to care, and some criminalize actions that help someone seek an abortion. These bans make it impossible for people in many states—particularly individuals with low incomes and those from Black, Latino and Asian communities—to obtain an abortion at a clinic without traveling hundreds of miles.
To fight back against the anti-abortion onslaught, a number of states passed legislation to protect and expand the right to abortion care. Meanwhile, there has been a continued assault on civil rights in some states with legislation aimed at harming transgender youth. Also, several states expanded pregnancy and postpartum care.

Abortion Restrictions and Bans
Including the 43 abortion restrictions in 12 states enacted in the first half of 2022, there have been a total of 1,381 restrictions enacted since Roe v. Wade was decided in 1973. The restrictions passed in 2022 amplify the harms of earlier ones: Each additional restriction increases patients' logistic, financial and legal barriers to getting an abortion, especially in regions where entire clusters of states have heavily limited abortion access already.
Many of the 2022 restrictions belong to one of two categories: general abortion bans and restrictions on medication abortion.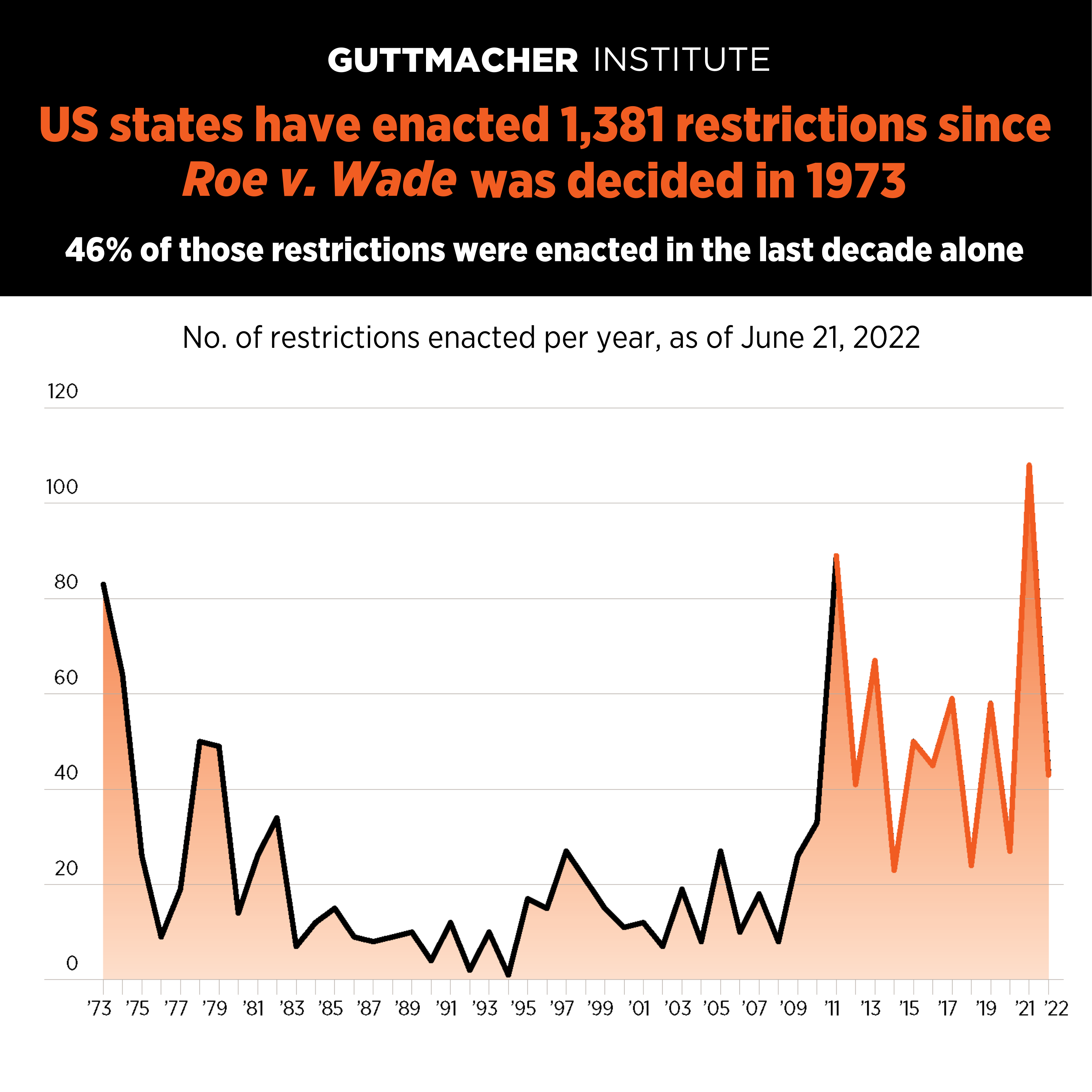 General bans. Eight of the 43 abortion restrictions enacted in the first half of 2022 are laws that apply to abortions performed throughout pregnancy, at six weeks or later, or at 15 weeks or later. These include:
Oklahoma became the first state to ban nearly all abortions since Roe v. Wade was decided in 1973, with a law that went into effect in late May that makes all abortions illegal except in cases of life endangerment, rape or incest. The law is modeled on a Texas abortion ban with the same cruel twist in its enforcement mechanism—it allows private individuals to sue abortion providers and anyone who aids an individual to obtain an abortion.
Oklahoma passed two additional abortion prohibitions earlier this year—one that would also ban nearly all abortions and another that would have banned abortion at six weeks of pregnancy. Neither of these laws are in effect because the near-total ban enacted in May superseded them.
Idaho passed a similar law that would have banned abortion at six weeks of pregnancy, except in cases of life endangerment, severe health conditions, rape or incest. The law would have allowed relatives of the abortion patient or the fetus to sue abortion providers. In April, the Idaho Supreme Court temporarily blocked the law from taking effect.
In Arizona, a law banning abortion at 15 weeks of pregnancy, except in cases of life endangerment or severe physical health conditions, is scheduled to go into effect in July.
A Florida law banning abortion after 15 weeks of pregnancy except in cases of life endangerment, severe physical health conditions or a fatal fetal anomaly is scheduled to go into effect in July.
The Kentucky legislature overrode Gov. Andy Beshear's (D) veto of a law containing several abortion restrictions, including a ban on abortions at 15 weeks of pregnancy, with exceptions only in cases of life endangerment or severe physical health conditions. The ban is not currently in effect because of ongoing litigation.
Medication abortion restrictions. Some states have focused on enacting restrictions on medication abortion, likely because more people are relying on this critically important method. Guttmacher research shows that following two decades of safe and effective use, medication abortion accounted for 54% of all US abortions in 2020—powerfully illustrating that the method has gained broad acceptance from both abortion patients and providers.
Three states passed a total of 18 restrictions on medication abortion in the first half of the year:
A Kentucky law dictates that only a licensed physician may prescribe or dispense medication abortion pills and that the pills may not be mailed to a patient.
Tennessee passed a law restricting provision of medication abortion to physicians able to handle complications and emergencies or those who have an agreement with another physician who can do so. In addition, anyone seeking a medication abortion must have an in-person visit with the provider. The law is scheduled to take effect in January 2023.
South Dakota enacted similar restrictions to Kentucky and Tennessee.
Proactive Legislation on Abortion
Although states enacted many more abortion restrictions than abortion protections in the first half of 2022, almost as many states enacted at least one policy to protect or expand abortion care (11 states) as those that restricted access (12 states). Among the states that acted to protect and expand abortion care:
Connecticut enacted a law in response to Texas' six-week ban that limits the effect of out-of-state abortion restrictions and bans on people in Connecticut. The measure also allows physician assistants, advanced practice nurses and nurse-midwives to provide both procedural and medication abortions.
In Oregon, a new law allocates $15 million to the Oregon Health Authority and local health departments for abortion access and care. The law also prohibits regulations on pharmacies that provide services through telehealth that are more restrictive than those established for in-person pharmacies.
The Maryland legislature overrode Gov. Larry Hogan's (R) veto and expanded access to abortion care. The law allows nurse practitioners, midwives and physician assistants to perform abortions and funds abortion training for medical providers.
A new Delaware law allows physician assistants and advanced practice nurses to administer medication abortion.
Colorado and New Jersey established statutory protections for the right to abortion.​
​Attacks on Transgender Health and Rights
In the past few years, states across the country have passed legislation limiting rights for transgender youth. While much of the legislation has focused on forcing students to play on sports teams designated for their biological sex, preventing transgender youth from having the opportunity to participate, other measures prohibit necessary medical care for transgender youth. In the first half of 2022, two states passed this type of harmful restriction:
In Alabama, a new law would ban gender-affirming care, including medication and surgery, for transgender individuals younger than 18. A court temporarily blocked enforcement of the law because gender-affirming care is "well-established" and "evidence-based" for minors.
Arizona enacted a law that prohibits providing gender-affirming surgical care to individuals younger than 18.
Pregnancy and Maternal Health Care
A dozen states enacted laws to expand pregnancy and postpartum care during the first half of 2022, including:
In Minnesota, a new law requires all health insurance plans to cover at least two comprehensive postnatal visits to a health care provider to assess the parent and newborn's physical, social and psychological well-being. The law is scheduled to go into effect in January 2023.
In Indiana, Medicaid eligibility was expanded to include pregnant people with incomes up to 208% above the federal poverty level. The bill also extends Medicaid coverage for pregnancy-related issues from 60 days to one year after the end of a pregnancy.
In Maine, a new law requires Medicaid to cover postpartum care for 12 months after delivery for patients whose household income is below 209% of the federal poverty level. This coverage has been available as part of an emergency measure that expires this summer.
A Colorado law established a program to provide pregnancy-related care, as well as care through 12 months postpartum, to state residents who were not previously eligible for publicly funded programs as a result of their immigration status. The new program also expands access to breast pumps for state residents and makes it easier for them to obtain health insurance during pregnancy.
Maryland and Washington state expanded access to doulas. Maryland now includes certified and insured doulas as providers in the state's Medicaid program. Washington will create a process to develop regulations to certify doulas, which will make it easier for them to be reimbursed by Medicaid and private insurers.
Conclusion
The right to obtain an abortion is in serious jeopardy across much of the United States. If, as expected, the Supreme Court guts Roe v. Wade, access to services in many states already hostile to abortion will become virtually nonexistent. In addition to Oklahoma, 25 other states are certain or likely to ban abortion. Thirteen states, including Oklahoma, have "trigger" bans set to go into effect shortly after a decision that overturns Roe. Patients across the country will have to travel far distances to access abortion care in a clinic, and some may turn to medication abortion from online providers. The six-week ban in Texas and the total ban in Oklahoma have already strained the abortion clinic network in many other states, and providers in states that maintain abortion access will be further overwhelmed.
Meanwhile, many state legislatures already supportive of abortion rights are likely to pass additional laws protecting abortion. The almost-certain result is a sharply divided country in which hundreds of thousands of individuals every year will find it impossible to obtain an abortion. People who will be harmed the most are those who face systemic oppression and insufficient access to health care, including low-income individuals; Black, Latina and Asian patients; young people; and LGBTQ individuals.
Counts of state legislation in 2022 (as of June 21, 2022)
Reproductive Health and Rights Overall
2,086 provisions introduced in state legislatures on all reproductive health and rights topics
1,157 provisions introduced that would protect reproductive rights or expand access to reproductive health
774 provisions introduced that would restrict access to reproductive health or curtail rights
Abortion
278 provisions introduced that would protect or expand access to abortion care
552 provisions introduced that would restrict access to abortion care
634 provisions restricting access to abortion care have been enacted since the beginning of 2011
Contraception
158 provisions introduced that would protect or expand access to contraceptive services
Maternal Health
281 provisions introduced that would expand access to or improve the quality of maternal health care
Information on legislation and enactments on specific topics can be found in our State Policy Update, which is updated twice a month.